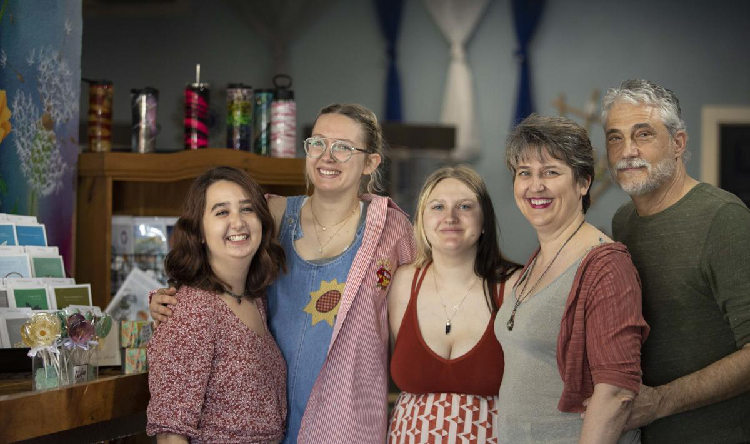 About Us
I was born and raised in Crete, NE & left this small town in 1986 to go to college in Rapid City.  Now 35 years later Rapid City has become my home.   I have spent the majority of my life raising two beautiful girls who have lent their own creative hand to this project.  
This venture is entirely out of my comfort zone.  One that has quietly been formulating for years.  With COVID and even before COVID, I had this overwhelming sense that as human beings we have lost our natural connection with each other and was wanting to get back to a time where we cared about each other, supported and uplifted one another.  Out of that desire Dandelion Wishes was born.
Ron Schuh is originally from North Dakota and now calls Rapid City his home has well. He has been part of the business community for more than 30 years as a restaurant owner. With years of restaurant experience under his belt he began his venture into business opening a Mexican restaurant, Rosita.
From there he opened and operated the Morningside Café and currently is the owner of Ron's Café.
Ron has spent his entire life involved in the Rapid City community donating time and money in order to uplift others who are struggling. It is not unlike him to give a meal or two away to help those who are in need of a hot meal! He is always looking for the next venture and ways to bless others.
Daughters Mackenzie, Tessa and Ashlee have jumped in to join in the venture truly making this a family affair.

Mackenzie has been creating and working with her hands since she was little.  She has discovered a natural talent for marketing and you will see her often on our FB posts.  She has been using her own unique art style to  create some one of a kind furniture pieces.  

Tessa is our youngest and she may be leaving us to go to college this fall.  Until then she has been busy making macrame plant hangers for the store and lending her plant knowledge and recycling repurposing ideas to add fun items to the store.

Ashlee is busy raising two young boys (grandsons that you may see in the store!)  She still finds time to add to our repurposed furniture collection with her own unique flair.  She also has a great eye for photography.
We invite you to come and dream with us a little and cast a wish where a sense of peace abides, and the ideas are limitless. Let us warm your hearts with creations from local/regional artists that will uplift you and build up our community.
We are hoping that this store will not only bless us, but also bless the community and those artists that we feature.  We would like to foster those individuals who are just starting out or who have been creating things and never thought about offering it to the public. 
It is an exciting prospect that we feel has endless possibilities.